Class of 80 Rajni, Mohanlal, Chiranjeevi more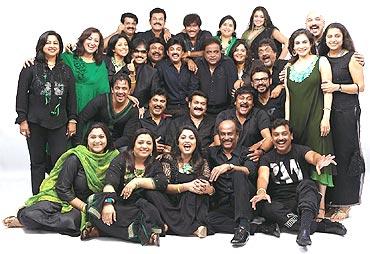 With the release of Lal Jose's Malayalam film Classmates a few years ago, there is a craze among Keralites to go on a nostalgic trip and organise various school and college reunions.
Perhaps inspired by Classmates, last year Suhasini Mani Ratnam and Lizy Priyadarshan [ Images ] (the wives of filmmakers Mani Ratnam and Priyadarshan, respectively) organised a reunion of all the actors who started their careers in the 80s. It was a moderate success then. The only big name they could boast of was Rajnikanth [ Images ].
But this year, the duo achieved something not many could even dream of. The Evergreen Reunion as they call it, is a huge success this year. This reunion photograph is a classic example. Where else can we see Rajnikanth, Mohanlal, Chiranjeevi [ Images ], Venkatesh, Sarath Kumar and Ambareesh in the same frame?
The 29 actors who gathered for the reunion on August 29 include Karthik, Prabhu, Mukesh, Pratap Pothen, Mohan, Suresh, Suman and Shankar. The actresses include Shobhana, Reavthy, Sumalatha, Khushboo, Ambika, Radha, Radhika, Poornima Bhagyaraj, Nadiya, Ramya Krishnan [ Images ] and of course Suhasini and Lizy.
It seems this is the first ever artists club in the world that has organised such a reunion. Kudos to Suhasini who managed to gather actors from all the four south Indian industries.
    With the release of Lal Jose's Malayalam film Classmates a few years ago, there is a craze among Keralites to go on a nostalgic trip and organise various school and college reunions. Perhaps inspired by Classmates, last year Suhasini Mani Ratnam and Lizy Priyadarshan [ Images ] (the wives of filmmakers Mani Ratnam…